The Best VPN Budget VPN 2019
The marketplace for cheap VPNs is filled with countless service providers who claim to have the "Fastest and Most Affordable" VPN on the market.
As most of you probably know, 90% of these claims are not true.
Cheap VPNs are often notoriously unreliable, un-secure, and painfully slow, but there are a few hidden gems among the VPNs that are worth your time and money.
To help you find the perfect VPN that keeps your wallet full and your browsing activity secure, I've compiled a list of the cheapest VPN providers in 2018.
Without further ado, here are best cheap VPN services you can buy:
The Best Cheap VPNs of 2019
In order to find the best cheapest VPN, we compared their cost, plan options, speed as well as features and logging/torrenting policies.
Our main considerations when curating this list include factors we believe are of utmost importance to Budget VPN users. The top priorities are:
Reliability,
Customer support,
Speed,
Range of servers
Cost
VPN SERVICES YOU MAY BE INTERESTED IN:
PrivateInternetAccess VPN
Number of servers: 3160 | Simultaneous connections: 5 | OpenVPN + AES 256-bit Encryption | No Logging | Torrenting allowed | Only 1 server worked with Netflix
Here's a complete breakdown of PIA's pricing plan.
Although it might be only the fourth provider on the list, they offer some of the most budget-friendly pricing plans that we've ever seen regardless of the length of time that you choose to use their services.
With their yearly pricing package coming in at a mere $3.33/mo and 2-year plan at $2.91/mo.
Although PIA does not increase the price for your subscription after the initial billing cycle, it does state in their privacy policy that they reserve the right to alter the fees associated with their services which would be reflected after the initial one, six, or twelve month period.
Unlike PureVPN, PIA doesn't directly offer coupons and regular discounts on their site and I have yet to see any holiday specials or last minute deals that would significantly affect their price.
For $2.91/month, PIA gives you access to more than 3,000 servers across 25 countries, unlimited bandwidth, P2P support, an ads blocker, SOCKS5 proxy, and access to all major VPN protocols.
At this time, PIA allows payments to be made with all major credit card providers, PayPal, Bitcoin, Amazon Pay, Cashu, OKPAY, Mint, and Z-cash (and even gift cards for staying anonymous).
Number of servers: 5068 | Simultaneous connections: 6 | OpenVPN + AES 256-bit Encryption | No logging policy | Torrenting allowed | Works with Netflix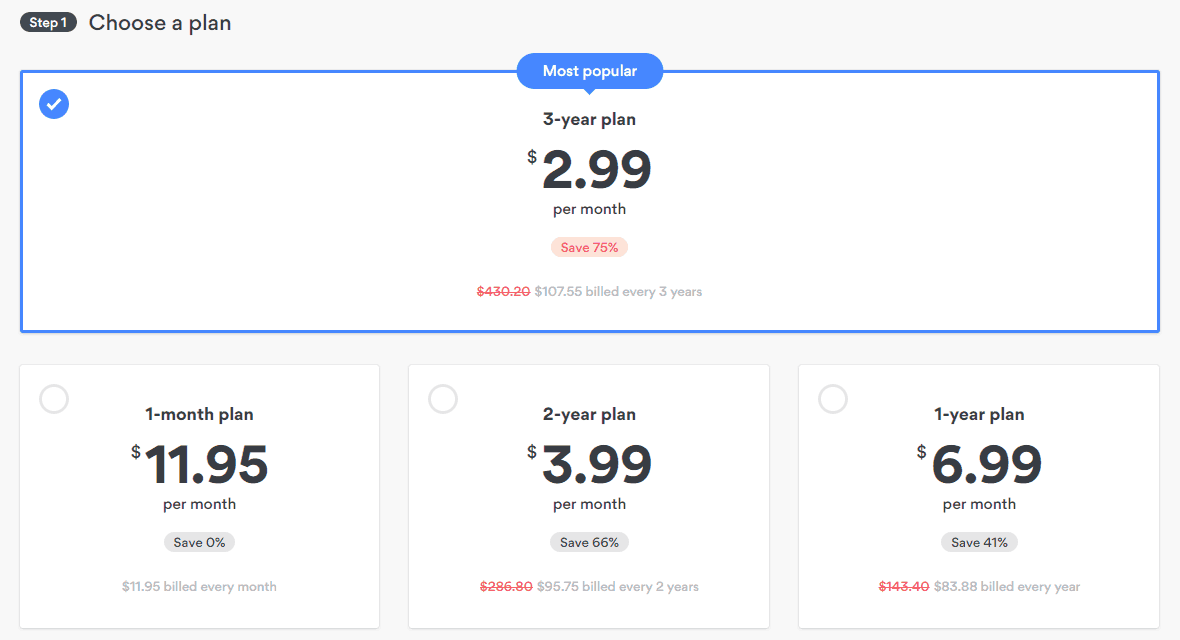 Although NordVPN provides truly premium services (ranked #2nd in our overall best VPN list) they are also one of the cheapest.
NordVPN does not increase the rate of your subscription after the first billing cycle and they allow customers to pay with a card, PayPal or even Bitcoin to ensure that your transaction is completely anonymous.
All purchases are protected by a 30-day money back guarantee and the company regularly runs promotions between $2.99/mo to $3.99/mo.
Customers receive access to all major protocols, a VPN that is fully compatible with all major devices, a true no logging policy, and P2P support.
They unblock Netflix, allow torrenting and keep you 100% anonymous.
Based in: Panama | Number of servers: 4000+ | Server locations: 60 | Simultaneous connections: 6
Number of servers: 2000+ | Simultaneous connections: 5 | OpenVPN + AES 256-bit Encryption | Keeps some logs | Torrenting allowed | Does NOT work with Netflix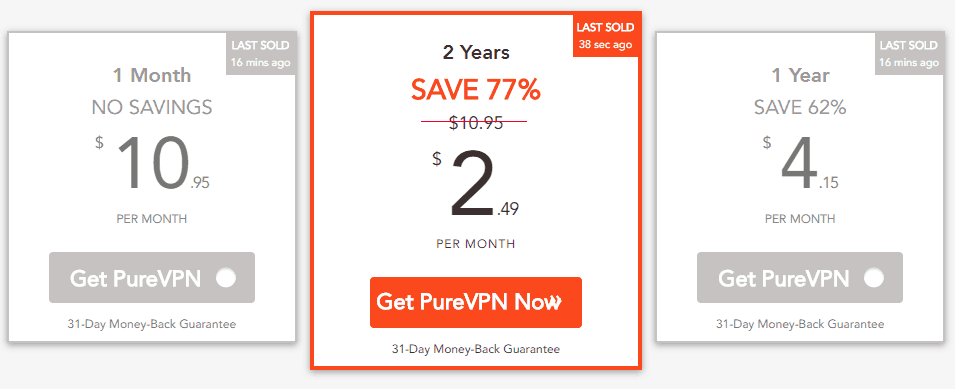 Headquartered in Hong Kong, PureVPN is (by far) the cheapest provider on the entire list. Although their one month plan is far from budget-friendly, costing $11.95/mo, they offer an unbeatable 2-year pricing package for only $2.49/month.
The 24-month pricing does require that you pay for the entire 2-year period up front meaning that a subscription with PureVPN will set you back $69.99 for the next two years.
In exchange for this relatively nominal sum, PureVPN customers receive the following features.
2000+ servers including P2P optimized servers in 141 countries, unlimited data and bandwidth, 24/7 365 "Live" customer support, compatibility with all major devices and access to all major protocols.
With no renewal fees and the option to pay with PayPal, Debit Card, Alipay, Paymentwall, Coin Payments, Cashu, and even gift cards, it's easy to see why PureVPN has become the go-to budget provider.
GooseVPN – $2.99/month
Servers: 114
Protocols: OpenVPN, IKEv2 with AES-256 bit encryption
Simultaneous connections: Unlimited
Logging policy: No logs
Torrent Support: Yes
Netflix Support: Yes
GooseVPNis another service that offers impressive features at low cost. It is one of the few VPN providers that can access both torrents and Netflix with ease, providing dedicated services for each.
It is based in Netherlands, which is one of the most privacy-friendly countries in the world. You can purchase its one 50 GB/month plan for only $2.99 per month. GooseVPN accepts Credit Cards and PayPal as payment options, which is quite limited.
Number of servers:  400+ | Simultaneous connections: 5 | OpenVPN + AES 256-bit Encryption | No logging policy | Torrenting Allowed | Does not work with Netflix

Here's how their pricing plans work out.
Monthly: $8.95/mo
6 Month Plan: $5/mo
1 Year Plan: $4.08/mo
Charging only $4.08/month for their 2-year pricing plan, Ivacy VPN is too, quite cheap VPN on the market.
After reviewing their ToS I can confirm that Ivacy does not charge a larger renewal price after the initial billing cycle so your prices are locked in until the company decides to increase their service prices sitewide.
Although Ivacy's basic plans might not be the most budget-friendly options on this list, they regularly run insane specials that allow you to secure your VPN service for a significantly reduced rate.
Ivacy does offer a 7-day money back guarantee to comfort any hesitant buyers, however, this refund is only applicable if you stay under 7 Gb of bandwidth usage and 30 sessions so keep a careful eye on your browsing bandwidth. Like the other providers on this list, Ivacy allows customers to make their purchase using a wide variety of different methods including card, PayPal, BitCoin, Perfect Money, and Payment Wall.
Your VPN subscription includes access to 200 servers (many of which are P2P optimized), unlimited bandwidth, a zero logging policy, a killswitch, and access to all major VPN protocols.